At Elaine's Trains we specialise in pre-owned model railway items particularly Tri-ang and Hornby Margate with a splash of continental HO
elaine@elaines-trains.co.uk
Phone 01673 857 423
Office hours 9am - 6pm Monday-Friday
Postal and Exhibition Sales only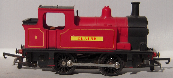 Happy to accept card payments over the phone during office hours.
Next Exhibition:Bluebell Railway Horsted Keynes 27th July
00 Steam Locos:
Hornby R051S Great Western Pannier Tank - Working Smoke!
A Hornby Great Western liveried 1970s example of the Pannier tank engine, tested and in full working order with smoke, in good condition, just very slight loss to the lettering, supplied in the original box with instruction sheet.
Price £35 (reserved awaiting payment)
Please click on a photo to zoom in - opens in new tab/window
Copyright © Elaine Harvey 2010-2019