At Elaine's Trains we specialise in pre-owned model railway items particularly Tri-ang and Hornby Margate with a splash of continental HO
elaine@elaines-trains.co.uk
Phone 01673 857 423
Office hours 9am - 6pm Monday-Friday
Postal and Exhibition Sales only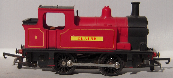 Happy to accept card payments over the phone during office hours.
August Exhibitions: 17th August Milton Keynes Silver Fox & 31st/1st Loughborough
00 Coaches:
Wrenn W6002 Pullman Car 1st Class - Aries - Painted White Tablecloths!
A Wrenn Pullman Aries, with painted white table cloths and passengers fitted, in good condition and supplied in the original box.
Price £25
Please click on a photo to zoom in - opens in new tab/window
Copyright © Elaine Harvey 2010-2019