At Elaine's Trains we specialise in pre-owned model railway items particularly Tri-ang and Hornby Margate with a splash of continental HO
elaine@elaines-trains.co.uk
Phone 01673 857 423
Office hours 9am - 6pm Monday-Friday
Postal and Exhibition Sales only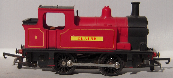 Happy to accept card payments over the phone during office hours.
Next Exhibition:Bluebell Railway Horsted Keynes 27th July
00 Steam Locos:
Tri-ang R59 BR 2-6-2 Tank Locomotive - Early Acetate Example!
A Tri-ang very early acetate example of the 2-6-2 tank engine, severe distortion to the body as shown, chassis in full working order, no original box.
Sold for £25
Please click on a photo to zoom in - opens in new tab/window
Copyright © Elaine Harvey 2010-2019