At Elaine's Trains we specialise in pre-owned model railway items particularly Tri-ang and Hornby Margate with a splash of continental HO
elaine@elaines-trains.co.uk
Phone 01673 857 423
Office hours 9am - 6pm Monday-Friday
Postal and Exhibition Sales only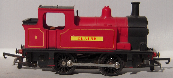 Closed for Easter Break from Thursday 18th 1pm then back Wednesday 24th April 9am.
Next Exhibition: HRCA 50th Anniversary Show 27th/28th April (Members only Sunday)
American H0:
Life-Like 08991 Thrall Door Box Car - Lignum - Tri-ang Couplings!
A Lignum liveried box car, fitted with Tri-ang/Hornby couplings, in good condition and supplied in the original box which has lost the liner tray.
Price £5
Please click on a photo to zoom in - opens in new tab/window
Copyright © Elaine Harvey 2010-2019